CIARRA Portable Induction Hob 13 Amp Plug 2800W Double Hotplate with Touch Control CUTIH2-OW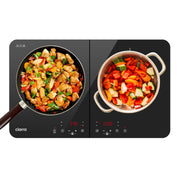 9 Power Levels: 300W to 2000W
10 Temperature Ranges: 60°C to 240°C
Compatibility: Suitable for 12-26cm cookwares
Smart Cooking: With touch control, temperature control, and timer function (3 hours)
Child safety lock function can prevent the little ones from misoperation
Power supply: plugged in
Standard Shipping - Free For All Orders
5-10 Working Days
Express Shipping - Free For Orders £298.99, Otherwise £ 9.99
3-7 Working Days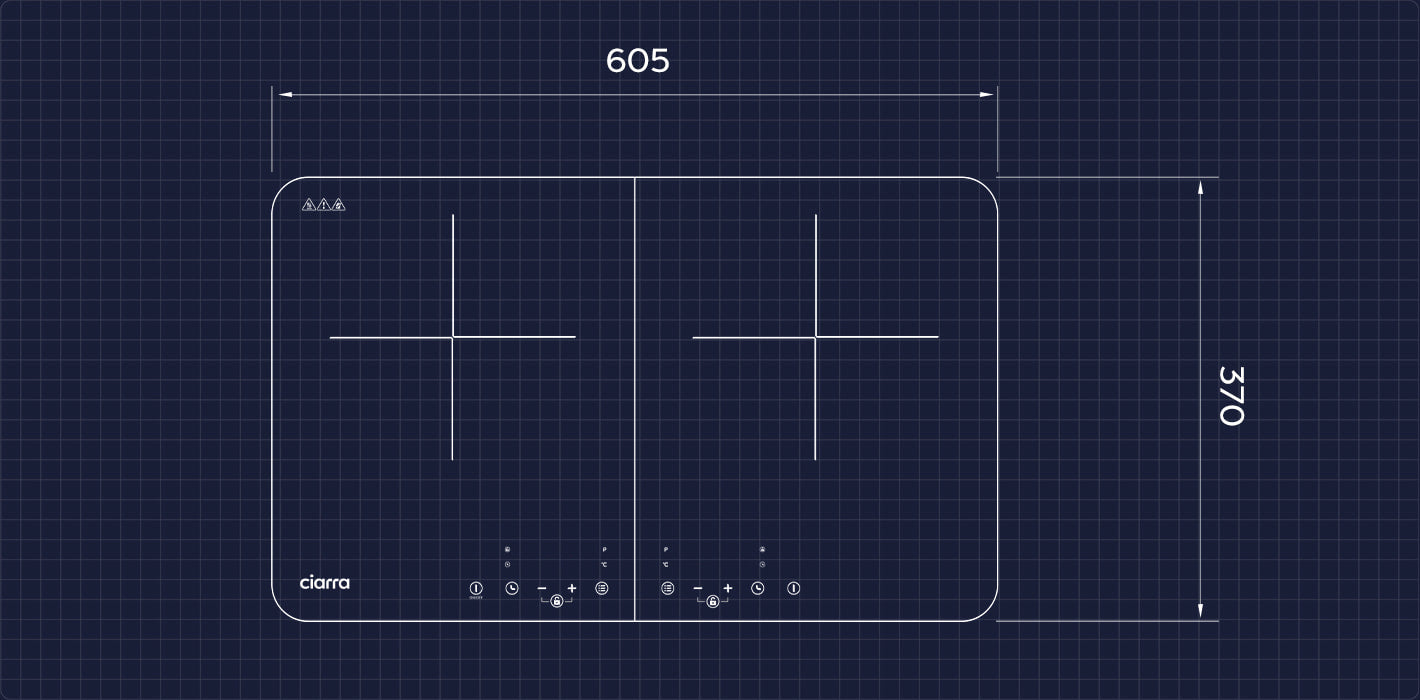 | | |
| --- | --- |
| Brand | CIARRA |
| Carton Model | CUTIH2 |
| Product Dimensions | 605 x 370 x 45 mm |
| Net Weight | 4.94Kg |
| Main Colour | Black |
| Type | Table Induction Hob |
| Fuel Type | Induction |
| Frame Type | Frameless |
| Surface | Ceramic Glass |
| Hob Number | 2 |
| Cooking Plates Details | 2*2000W |
| Control Type | Touch |
| | 9 |
| Power | 2800W |
| Voltage/Frequency | 220-240V / 50/60Hz |
| Fuse Rating | 16 Amp |
| Cable length | 1.4m |
| Warranty | 24 Months |
Ciarra portable induction hob comes with the following items in the box:
So hot so quick
We brought this induction hob to try and save some money as it was taking so long for anything to heat up on our old hob. We are thrilled with it. We did a test heating up a pan of water on our old hob and the same amount of water on this new induction hob and we was amazed with the results. This induction hob water boiled in a fraction of the time.
Please be aware though that you do need pans that work on an induction hob to use this. You can test to see if your pans will work by seeing if a magnet sticks to the base of the pan, thankfully our pans was suitable for an induction hob.
Great Hob
Really great hob. We have an Aga, which is mainly turned off at this time of year so it is ideal to be able to quickly and easily cook on the hob.
CIARRA Portable Induction Hob Double Hotplate With Touch Control
We have ripped our kitchen out and I have an induction stove, we just started using this 2 pot induction hob and it is brilliant. Absolutley worth the money.
Was ok to begin with and worked well
Unfortunately the hob obviously got overheated underneath and as partly melted and no longer wants to work
Please respond ASAP as am left with no hob
Excellent product
Good service and quality product. Very efficient.